Project
My project this semester was Crafting Stories, Promoting diversity. My goal was to rediscover and emerge lost stories about cratsmanship. With people increasingly getting disconnected from their products crafting stories are in danger of being lost. Read the report Feedback on the project
In my first individual Industrial Design project I got to explore one of my big passions: Graphic design. I got to visit some different kinds of printers and actually got to see how both my and everyone elses graphic work is converted to a physical form. I tried to tackle the problems that presented themselves in the printing world by building Print and Press, my project this semester.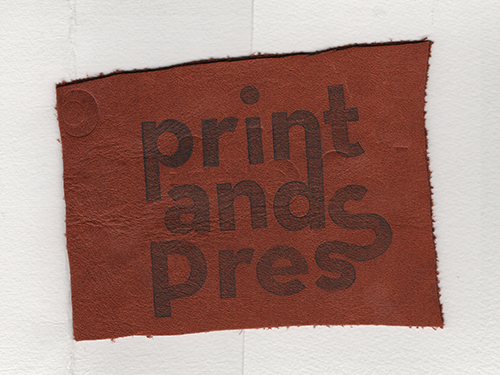 Exploration
The exploration of Print and Press really revealed the value of Crafting Stories. Modern technologies certainly aren't bad, but if we stop being critical of our means of production we run the risk of losing touch with our work. Creating graphical work nowadays happens on a computer, it is finished on the computer. Then it has to be made physical somehow and we usually elect to use the thin paper and limited ink the printer offers us.
If we do want to print on canvas or shirts we will have to send it away, at which point we are not present when work is printed, distancing us from our work and introducing the possibility of ending up with 150 shirts that are not as they are supposed to be. The other option is buying a shirt printer or a printing press ourselves, costing hundreds, if not thousands of Euros.
Result of the first week of exploration
For my project I decided to approach some printers, to really get a feel for the world of printing. So I contacted the printer of SLANG magazine, a magazine I was working for on at the time. This was Thijs Wielinga of Dutch Quality Printing. Thijs talked about how the radical change to printing in the last few decades. Printing used to be a slow process for which a lot of time was to be reserved because of the large amount of craftsmanship involved. Recently the direction has been more towards it being quick and easy, taking down the quality of print work and increasing the speed by introducing digital printing. After modern printing techniques, the next logical step was jumping back in time and look at traditional pressing techniques. After a lot of searching had to be done to find someone who still did any form of letterpressing in the netherlands, but eventually I found Silvia Zwaaneveldt, secretary of a community of traditional printers, called "Drukwerk in de Marge".
Silvia talked about the huge changes printing has gone trough in the past few decades. Ever since the printing press was invented around 500 years ago technologies moved relatively little, letters were arranged in a window, tightened, inked and pressed into a medium. But after hundreds of years, in the second half of the 20th century, offset printing came in. Silvia works in the same city as one of the few still-standing commercial printers still using relief-printing and letter-pressing techniques. This printer is "Drukkerij Mostert", run by Frank Turenhout and Hans Dessen. Hans and Frank are among the last printers still actively involving letter-pressing in their process. By knowing the machines, their paper, their ink and everything involved inside and out they can make prints that would otherwise be impossible to make. Drukkerij Mostert loves to propagate the legacy that these machines hold ad taught me all about new and old printing techniques.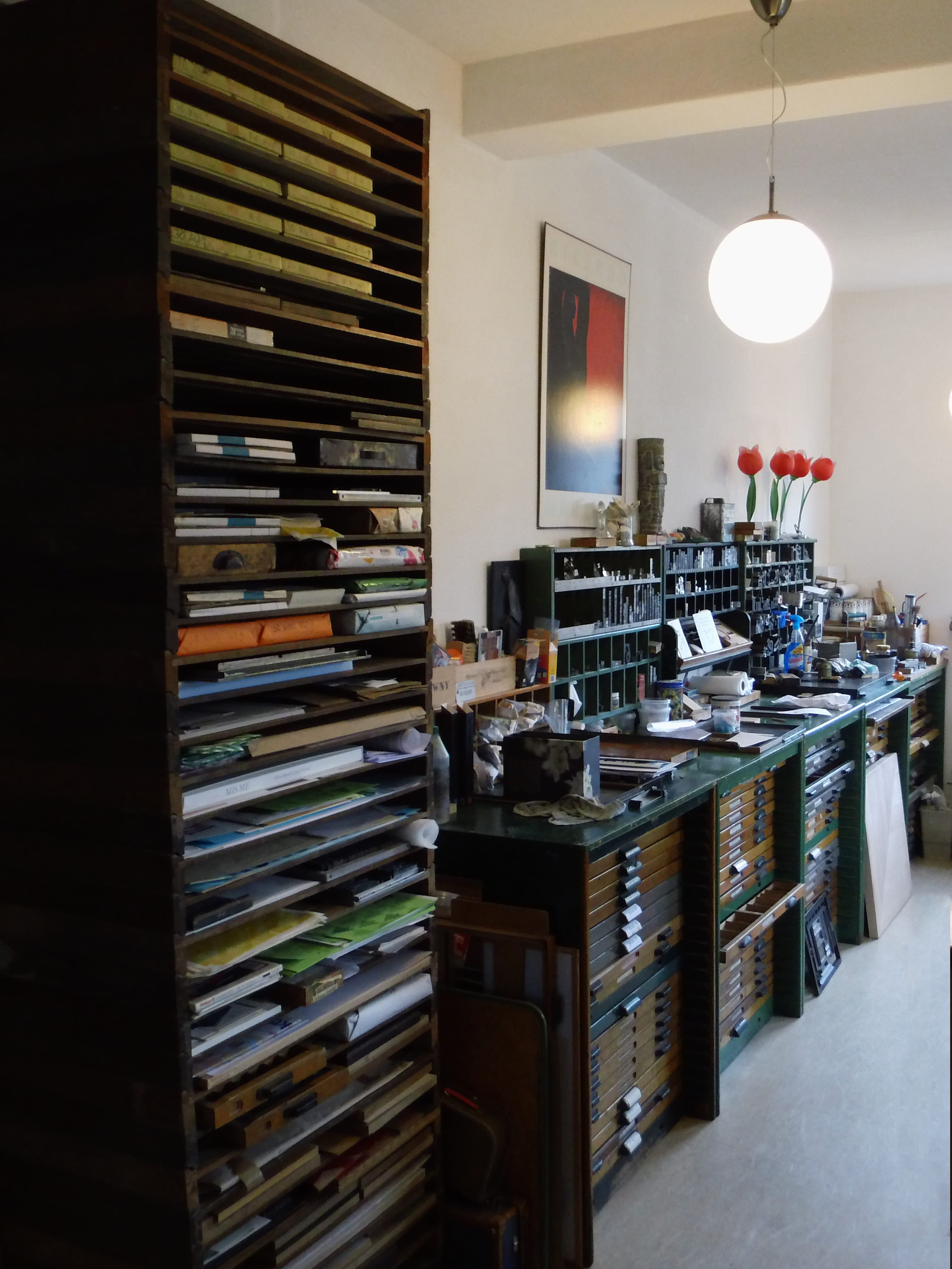 "De Baaierd" Silvia Zwaaneveldt's printing shopTo read more about Dutch Quality Printing, de Baaierd and drukkerij Mostert, Read the Report!
Press Design
It was strange how the effect of a printing press are so strong, yet so overlooked in everyday life. How many people have even seen a printing press in their life, let alone used? The problem, as always, is cost and space. Printing presses have a huge footprint, with their large metal frames and levers. But their price is a real obstacle, if someone is only interested in experimenting, or not sure if letter-pressing is their thing, they will probably not be looking to spend hundreds of Euros (plus costs to get a press weighing hundreds of kilos home!). Getting letters was also a problem, nearly none are available anymore today, complete fonts can consists out of dozens of cases, filled with lead. The goal was to reduce costs and size, make it accessible to anyone.
I started the building phase out by creating a press. Had to be affordable, space saving and easy to use and assemble. I decided to create it out of materials that can be bought in any hardware store. The press is basically made out of wood, metal profiles and a winch (more details can be found in the report). To create a type acrylic letters were laser cut, this allows the user to only cut what they need and removes the need for having a big heavy lead letter collection. When I demonstrated my press at the demo-days halfway the semester I got a lot of useful feedback. My direction was clear but needed some refinement, I was reaching too much towards nostalgia. There was a modern, digital element missing.
The press halfway the semester
Print Design
To achieve this I did not want to reinvent the wheel, I wanted to use existing printing technology, this would also keep the cost of the final product down. While using digital printing technologies I couldn't reintroduce the associated limitations, so I modified a printer to print on any surface. It had to be easily integrated with the press so a printing head that moves over a surface was the solution. It would be able to be mounted under the press.
While the press offered interesting options and a different view on graphic design, it was crippled in it's nostalgia. Digital printing offers options like quickly printing long texts, or making full color images, so to have the press link back to today's possibilities I wanted to introduce a digital element.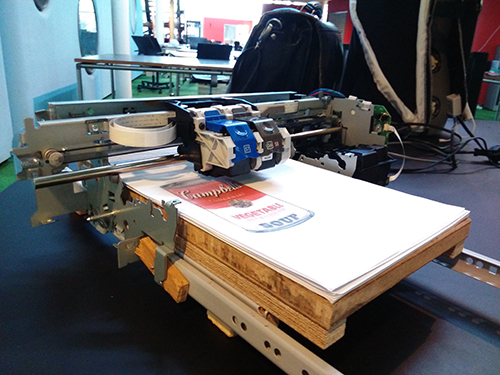 The printer in action
Final Design
In the final design all aspects of the design had to come together, traditional and digital technologies have to work together to create a machine that accommodates a rich creative process and a real emotional bond with the machine as well as the prints made in it. The machine is simply called "Print and Press" because essentially it is made out of two machines with their own personality and uses that work together to provide a rich interaction.
In the final design the printer is placed under the pressure plate of the press. The printer can move over the medium and the pressure plate can press without ever having to move the medium. This will allow for a consistent, reproducable, result, making the Print and Press a creative as well as a producing tool.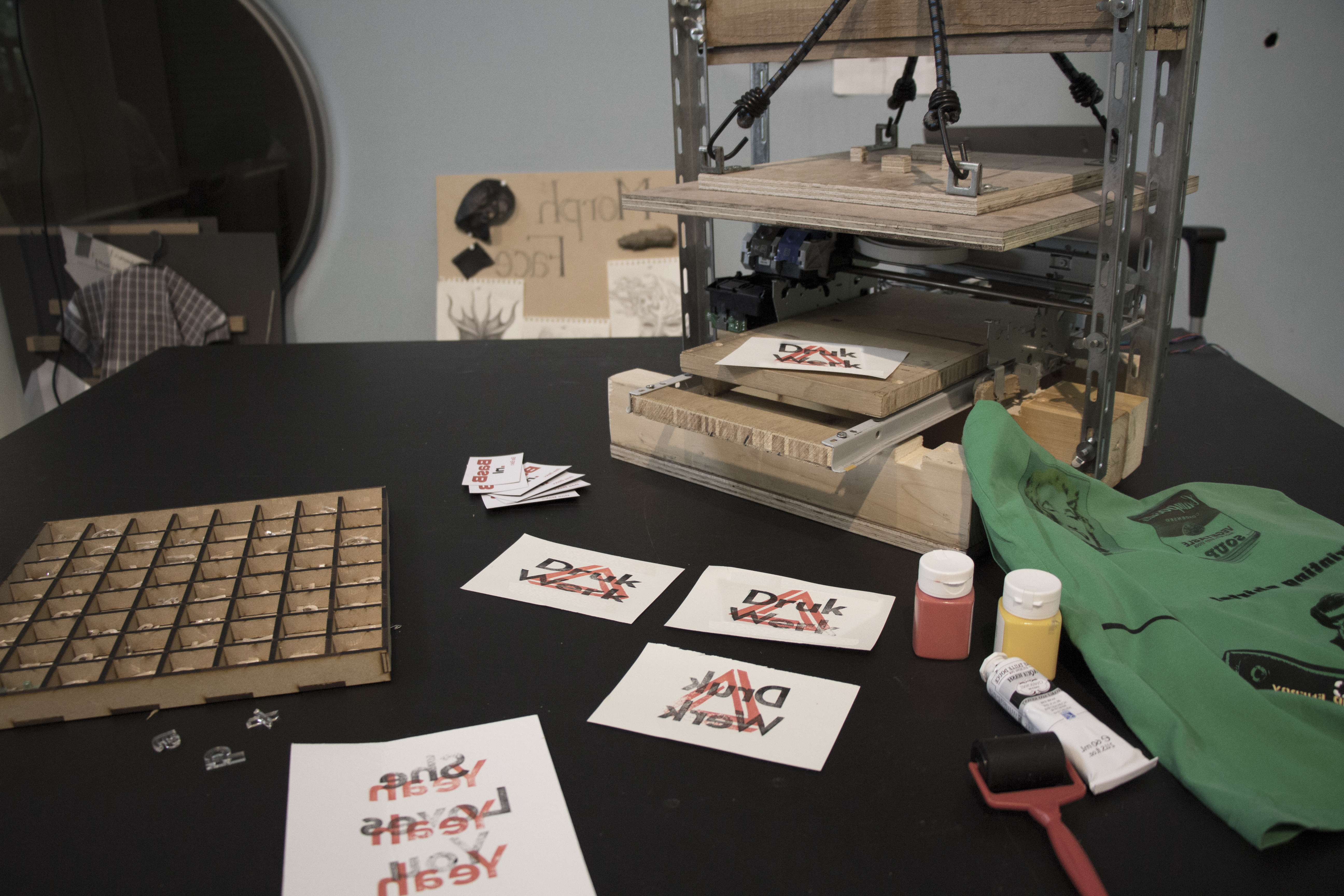 The Print and Press at work