project
I did a project called "Group Music Improvisation Systems" this semester. It tasked my group and me to design a new way of creating music together with others. Read the exploration Read the elaboration Feedback on the project
Together with Bart Jakobs I created the "Loopende Band", a physical music sequencer. It consists out of a conveyor belt one measure long. Users are able to place marbles on the conveyor belt, as soon as they fall off they trigger a sound, this way a melody can be made. After the marbles have fallen the machine will put marbles back on the conveyor belt in exactly the same place in the measure as where you left them.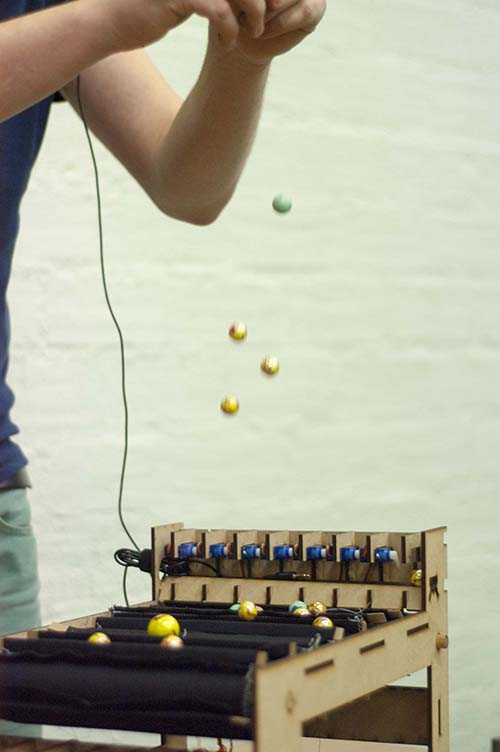 Exploration
I already had a huge interest in music from the get-go, combined with very knowledgeable teammates and fellow students we had a lot of information ready. Me myself being into blues and indie it was great to talk to electronic artists, ambient lovers or the classically schooled about what is important in the massive social and cultural influence that is music.
Because of the creative and expressive nature of music it was immediately clear that the concept itself would be crucial, therefore we needed a good exploration phase. I have never before had a brainstorm period that was so thoroughly prepared. After the brainstorm we all fell in love with an idea, which was an amazing way to start out.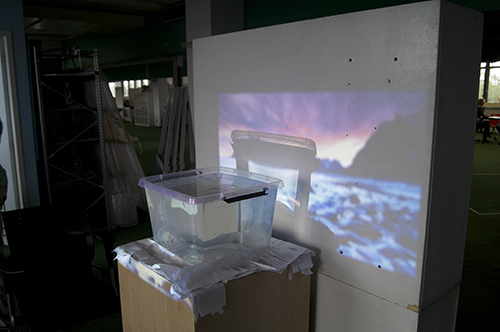 An experiment early in the exploration
Execution
Teamwork was very important, it keeps proving to be hard to let important tasks to others but i think it is very important to realise the value teamwork can bring. During the project i realised i am definitely a teamplayer, i think it adds so much to discuss decisions and exchange knowledge. I have always been of an opinion that literally everyone is more qualified to judge your work than yourself.
Another spear point this semester was creating. We started creating the week after we decided on our concept, at first with whatever we could find at first glance, but very quickly I got a crash course lasercutting. Some time later I also had to learn to sew which I did for hours on end to create A conveyor belt. I also got to use my newfound Indesign and Illustrator skills a lot in creating the graphic material and laser cuts associated with the loopende band.
Freshly lasercut second iteration
Result
Eventually we came up with the "Loopende Band". At the heart it is a physical sequencer, it allows users to intuitively build measures of music, which are repeated infinitely until the user decides to add to, change or remove the measure.